The House District 34 Republican Central Committee announced recently it would not support the winner of the June 30 primary, Republican Mark Bromley of Northglenn.
The July 3 announcement cited Bromley's threats against fellow Republicans and other candidates, and his "abject failure to exhibit beliefs that are consistent with the Republican platform, along with his indecent means of doing so." 
Those threats and other comments came through a series of now-deleted Facebook posts in which Bromley called a home-schooling parent "Home Hitler."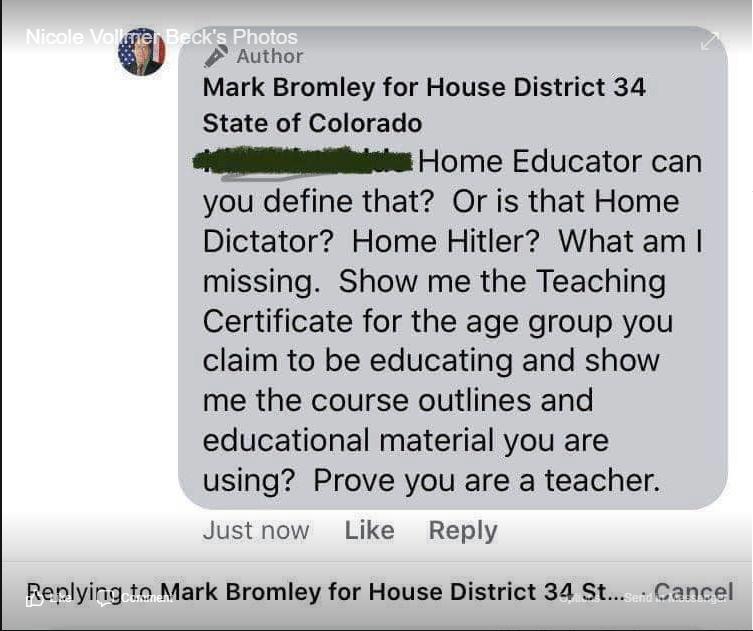 Evan Underwood, chair of the HD34 committee, told Colorado Politics that he had attempted to help Bromley with his campaign, and Bromley responded by asking for Underwood's Social Security number. Underwood said Bromley wanted it for a background check. 
But it's the Facebook posts, obtained by Colorado Politics, that has Republicans in this Adams County district most disturbed, and it has led to a fight between Bromley and home-school parents across the country.
Bromley defeated Audrey Herman in the June 30 primary by 15 percentage points. He accused other Republicans running for the seat during the assembly process of being Democrats. He also accused the Adams County GOP of leaving out some of his information during the assembly, in which he came in second to Herman. 
He will face Democratic Rep. Kyle Mullica of Northglenn in the November general election.
The district has an interesting history: it was represented for 41 days in 2018 by Republican Rep. Alexander "Skinny" Winkler, who later lost by nearly 20 points to Mullica in the fall election. Winkler was chosen by an HD34 Republican vacancy committee when Democratic Rep. Steve Lebsock was kicked out of the General Assembly over sexual harassment allegations and at the last minute changed his party registration to Republican. 
Bromley's Facebook posts accuse home-schooling parents of being incompetent to teach. In one post, he said parents who aren't certified to teach aren't good teachers.
In a fourth post, after being told he had picked a fight with home-school parents that he couldn't win, Bromley replied that "people chose to learn or they chose never to learn. Your choice, but losing to people who choose to remain closed minded isn't a fight, it's just a lost cause. We'll have to see if Helen Keller is available for you."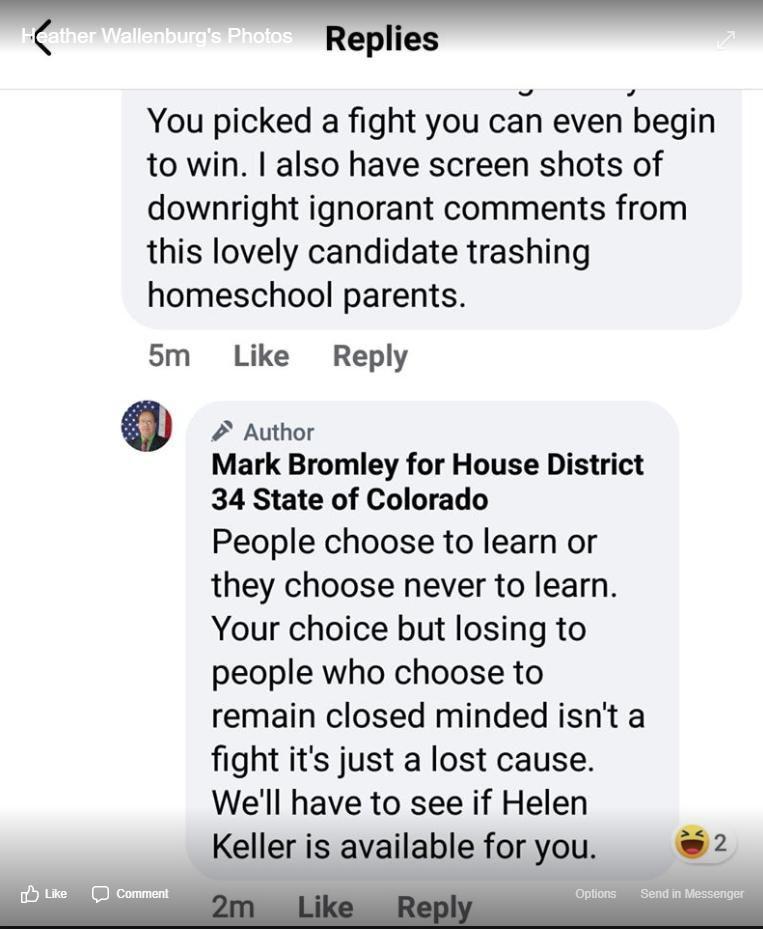 Despite his comments to the home-school parents, Bromley's campaign website says he "supports Home School and Parental rights."
Bromley also retweeted a debunked post made by Republican Rep. Dave Williams of Colorado Springs that claimed that the George Floyd protests at the state Capitol were intended to launch an effort by Democrats to murder Republicans.
The HD34 central committee statement said they will work with the Adams County Republican Central Committee to "aid the slate of other candidates who adhere to the party platform and intend to unify our efforts of defending conservative values."
Despite filing his candidacy last November, Bromley has so far raised only $5 for his election effort, money from his own pocket.
In a fundraising email Wednesday, Mullica referred to Bromley as a misogynist who makes "condescending comments."
"My district is not safely Democratic," Mullica wrote in the email, "and both Bromley's rude comments and the motivation behind his intra-party opposition reflect the ugly politics of the Republican Party that could flip this seat. The activists who convinced the county party to denounce Bromley are opponents of my efforts to boost immunization rates, and their preferred candidate in the primary ran on a platform centered around anti-vaccine science. Bromley agrees with their anti-vaccine politics, yet his disparagement of the decision to homeschool is wrong. While they have their disagreements, they are united against science-based policies that support public health in Adams County."
Bromley has not yet returned a request for comment.